If you have participated in day 1, you will have at least one goal for February, to celebrate by the 28th !
Whatever that goal is, I ask you:
What in your life or home could use some decluttering or organization ?
Is there one element that you could spend some time today working on that ?    Lets set a time in today's agenda.
For example, I've been saving socks that ended up as single lonely entities, crying for their mates and sitting in a grocery bag.  I would probably wait until the cows come home to find their mates.  Some are useful for dust rags, or for a craft, but knowing myself, the craft is not on my list, and therefore …. the rest are going into the compost … the cotton ones can be composted if you cut them up, thats even better.   The rest are going back to source !
What can you declutter today ?
A timer, a song, a buddy is helpful to keep other distractions out of the way.
Need accountability, or to share what you can declutter today ?
Email me, I'd love to hear from you.
Cherie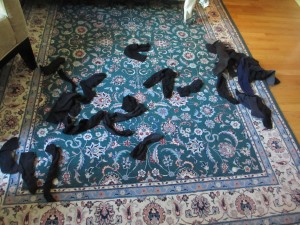 info@wavesofwellbeing.com